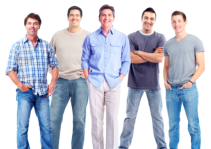 If you could have fixed yourself by now, you would have. Therefore, contact us to learn about things you need to know in order to put your life back together. Men manage stress, addiction, and mental health issues differently than women. You need a treatment plan that will embrace the specifics about you, the challenges you have had, and to not repeat solutions that you know are not effective for you. We understand that in order for a man to heal, he has to deal with issues and concerns that he has pushed way down deep – so deep that the man himself may have even lost touch with what started it all to begin with. You are not alone. By calling you will be one of many men who have started on the path of becoming the hero in their own life once again.
Treatment focuses on the uniqueness of men by addressing the following:
Developing our identity away from the job we have
Learning to be alone
Expressing Emotions
Power and Control
Shame
Anger and Violence
Effective Fathering
Coping with Rejection and Loss
Fear
Defining difference between Religion and Spirituality
How the male brain processes events and the world around him
Your specialist is awaiting to answer your questions – 602-249-6674!