Be the Change that you want to see in the World!
Mental health issues have a major impact on today's society. Volunteer to help those that are dealing with depression, anxiety, and substance use disorders. Join the many people that care by signing up for a volunteer position to give support to those experiencing struggles.
At Destiny Sober Living our volunteers help run groups, help individuals with their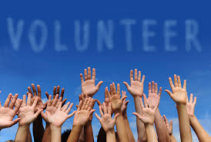 discharge plans, help individuals find community supports, and even help individuals through 1:1 support. A volunteership is a rewarding way to give back to those who are currently struggling. Volunteers must have at least 1 year of sobriety, be stable on any medication regimen but are not permitted to take Benzodiazepines or Narcotics, and commit to the schedule they develop. A volunteership is not a 1 time commitment. It's a commitment over time. Volunteers set their own schedule and can be as little as twice a month or daily. However, a schedule must be developed and followed through on.
Volunteers can be those in recovery, those who are retired, family members who have had loved ones with mental health or substance abuse concerns, or individuals who have a passion for helping others.
To get started, contact 602-249-6674 to schedule a Volunteer Interview. Thank you for your dedication and time!